Hello Beautiful Visitors! Welcome to my little corner of blogland.I am thrilled that you stopped by!
Karen of My Desert Cottage goes to a lot of work each year to host this party and my gratitude goes to her. Please stop by her blog and check out all the other participants of the party and see where THEY create!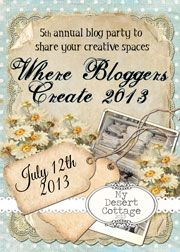 I am situated in the northeast Appalachian mountains of beautiful Tennessee, snuggled in a valley between several mountain ranges. We live just down the road from a huge manmade lake created by the TVA back in the 1940's. The TVA actually moved an entire mountain town to create this lake and we live in the old postmaster's house, one of the first to be moved to the new town.
I live on an acre of land in an 1920's farmhouse with Mr. Shabby, our 14 year old Dalmation Cleo and two rescue kitties named Gracie and Minny. My studio is situated inside our home and very small compared to some, but I make it work for me with the help of Mr Shabby and his woodworking skills, as you will see in a moment.
I also run my online businesses in an office right next door to my studio. I joined the party last year but decided to join again this year because we did some major changing of one side of my studio that I love, and also because I recently moved my blog and lost some of my pictures from last years party.
Are you ready for the tour? I'll have Giveaway information at the end so let's get started, I have lots of pictures. :)
As I mentioned, my office and studio are next door to one another so it's pretty easy to change hats. The screen door was my solution to claustrophobia and a huge door that was a space eater.
Let's go in! The room is about 9'x12' if you include the area in the closet. Old farmhouses had small rooms.
When you close the screen door you see a work space immediately to the right. The table work was built for me by my talented hubby. So we'll start the tour to the right and move our way around the room, stopping off for some closeups along the way. Now I hope you know this studio is NEVER this neat. I did clean up for you guys because that is the way my mama raised me.
When the mood strikes me I like to dabble in a little jewelry making (believe me I am NOT a jeweler). So this is the little corner where I indulge myself.
These two pieces pull out, the one one the right I can pull out if I need more table space, and the drawers house soldering iron "stuff" and metal "stuff". The other is my ironing station when I'm working with fabrics. This way I can stay seated at my work table and still iron fabric pieces when I need to.
This is the side of the room I think of as the "dry" side. All my messy paint work is done on the other side. I normally use this whole area for things like bookmaking, fabric work, gluing... anything I create that doesn't require much in the way of paint. But sometimes I really have to spread out when painting so this has come in handy. lol
  Inspiration board.
I guess you can tell my bushes need trimmed huh? :) When they are, I have a view of a distant mountain.
The worktable runs the length of the wall and wraps right into the old closet, which I have set up for a sewing nook. And please...I am not a seamstress, I sew things like a collage, books and paper. :) Anything much more than that gives me the heeby jeebies.
These rolling carts under the table hold some of my laces and vintage fabric bits and bobs I have collected over the years.
So "inside" the closet. Lots of shelves for fabrics and "more laces" flowers, ribbons, paper scraps, lots of the little things we mixed media artists collect when we are out on the hunt.
In a small room that needs to be functional (it's just the way I roll) I don't have room to make it as beautiful as some studios I drool over, but I try to make room for a few little pretties to inspire me. This shelf is often changing.
I have these fabric shelves on both sides of the closet and try to keep them kind of color coded. Kind of being the operative word.
Yes. I like pink. :)
Another inspiration "board" only this one is the little bit of wall space beneath my shelves.
Some sweet gifties from artists friends and my fabulous Art Is You badge.
Okay...on to the wet messy side of the room. :) To the left of the closet is my new (this year) paint area. I am so in love with this side of my studio that I've actually started doing more painting again. The storage and the light is fabulous! All thanks to Mr Shabby. He's such a keeper!
This would be standing back at my screen door looking in. Again...this is a working studio so please don't think this area is EVER this neat. I use my cupboard doors for another inspiration "board"
This counter is  taller than normal because I am 5'10" and my back can't handle short counters and tables when I stand and work. I do stand a lot at this counter but I am also looking for a taller stool. :)
A girl can never have to many drawers! I love the depth and width of these. I can store a ton of stuff!
 Plenty of room for stencils and mark making tools, rubber stamps, papers and canvas, large sheets of watercolor paper. All at ready with a simple slide of a drawer when I'm working.
And looking back into the room from my sewing niche. Another screen door that leads into a hall with storage cabinets. Shallow shelving to make good use of the wall behind the door.
I love the way my apron is looking these days. Like abstract art. :)
I want to thank you so much for stopping by to visit by offering a Giveway. In fact I have three of them!
All you need do is leave a comment on this post, and only this post, to be entered. I will use a random number generator to choose three commenters as winners Friday July 26. Each will receive a package of vintage lace, trim, buttons and  fabric ribbon printed by moi. If you don't have a  blog please make sure you leave a way for me to contact you!